Christmas is almost upon us – in case you hadn't noticed. I've gathered inspiration from all over the net and started a board on Pinterest of all the pictures that just make me go aaaawwww! Problem is I'm so insanely tired (I slept until two o'clock in the afternoon this Saturday!) that even though I brought home my very first Christmas tree yesterday I haven't even had the energy to decorate it yet. Hopefully I'll manage it tomorrow after shopping from Christmas dinner, because Wednesday I have another 25-hour shift (though I can't imagine how I'll ever get through that!) and Thursday I have to pick up the family at the airport. Christ – I can't even think of everything I have to get done without feeling a tiny twitch of panic in the pit of my stomach. So I won't think about it, I'll just take one last look at these pretty pictures and then really try to sleep (as I was supposed to be about an hour and a half ago…)
Great idea, I wish I had done this, or that I hade the place to do it in the kitchen. It kind of looses it's point if you have a real tree I think.
I made a star like this, this weekend. It's now hanging a bit crooked in my window, but it's very pretty, if I may say so myself.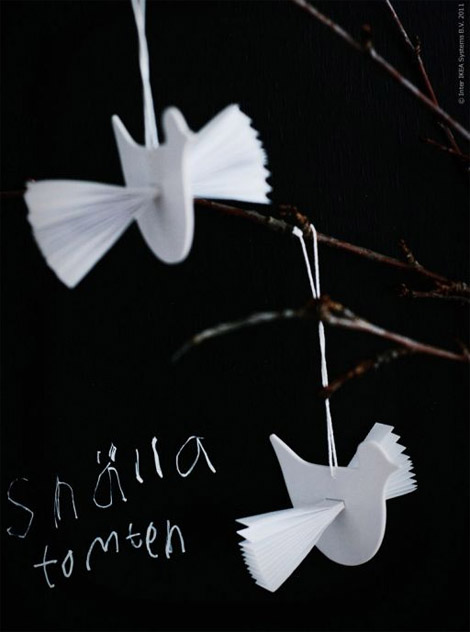 I took inspiration from these birds and made some myself a couple of days ago, they are going to go in the tree. I think they're probably the cutest think I've ever done.
As always I love paper cranes. I've been doing them since 2nd or 3rd grade when we read about Sadako and The Thousand Paper Cranes. I never knew they made a wish tree every year – make a wish for the world and give it wings. How beautiful is that? In a couple of years I'll probably have enough cranes to decorate a whole tree with them, I can't wait!
Picture nr. 1 from Sweet Paul, nr. 2 from Life is Beautiful, nr. 3 from En mammas dag /Weronica and nr. 4 from Rainbow fund.